What is Desktop as a Service (DaaS)?
Desktop as a Service (DaaS) has become a hot topic for many companies since most staff are now working from home. There are legitimate concerns about security, data privacy and compliance, among many other challenges. Read on to learn if DaaS can solve some of these issues for your Business!
What is DaaS?
DaaS stands for Desktop as a Service. DaaS is a way of delivering a complete virtual desktop solution to staff via a hosted cloud environment. It is usually hosted and maintained by a third-party desktop as a service provider, including Managed IT Service Providers such as OceanCyber.
You can consider DaaS as a "hosted desktop" – all your applications and services run on servers in the IT service provider's cloud-based data center, not your user's computer systems.
DaaS providers stream the virtual desktop to your staff, no matter what device they are using or where they are located.
This implies that all employees or teams can receive the same experience and access the applications, services, and data meant explicitly for them over a secure connection.
It also means that your DaaS provider is liable for the entire back-end responsibilities of your data storage, backup, security and upgrades. Generally, relying on the provider, there is also the added benefit of 24/7 access to a live help desk with technicians who understand your entire environment.
How Does DaaS Work?
In the past, setting up a working network with tens, hundreds or even thousands of computer systems meant installing and maintaining desktop software for each machine.
The DaaS model introduces a virtual – yet familiar – desktop to each user's computer (or other devices) over the network from remote servers in the cloud. There is minimal installation and set-up, and each employee will be given a log-in to this central point to access their cloud computing desktop.
All your organisation's applications and files are now stored "in the cloud", giving everyone access to company data when needed anytime, anywhere, from any device.
It no longer matters if employees use a company-owned computer or a personal device such as a tablet or smartphone. Users can only access company applications, services and data via the DaaS virtual desktop services. In addition, no company data resides on the user's devices, which can easily be lost or stolen.
DaaS cloud computing ultimately delivers a simplified computing experience for users consistent across all devices while enabling centralised control and integrated security.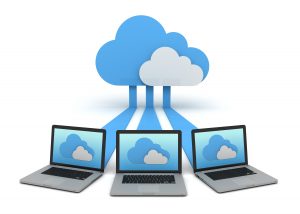 Types of DaaS Deployments
Choosing the best DaaS deployment depends on knowing the benefits and issues related to the various technical implementations.
One of the well-known DaaS solutions is Microsoft Remote Desktop Services (RDS). RDS usually works best with computers but can also work from a Mac. In addition, users will be presented with a familiar-looking Windows experience, which many consider a benefit.
Another alternative is Azure Virtual Desktop, once referred to as Windows Virtual Desktop, a Microsoft Azure-based system for virtualising Windows operating systems.
While RDS and Azure Virtual Desktop are related, they are not identical. There are many other remote access technologies on the market, but another well-known solution you may have heard of is Virtual Desktop Infrastructure (VDI.)
Both RDS and VDI can be hosted in your environment, a data center (on owned or rented equipment), or public cloud resources. It would help if you employed a trusted IT advisor to assist and guide you on what may be best for your business needs.
When using RDS, all users log into the same server interface. This means all the resources are shared between the users logged into the system. So, though your remote desktop may look and feel like your regular computer, the truth is that you are running a virtual application that constantly delivers data back and forth over your internet connection.
In some instances, this could trigger poor performance. However, there are many ways to manage this, including educating users on the best way to use RDS.
You must also seek the advice of your IT provider, who will have technical recommendations for how you can enhance your RDS performance.
Key Advantages of Desktop As A Service
Fully Redundant Backups: With DaaS, fully redundant backups will ensure that your data is never lost. You no longer have to worry about hard drive failures, human error, or natural disasters.
Easy to Use: DaaS can offer a familiar user interface, such as Windows, which requires little or no training.
Accessible Anywhere: Using a secure connection, staff can access files and applications from just about anywhere, from desktops, laptops and mobile devices.
Completely Managed For You: DaaS is a cheap approach to providing a completely secure environment. Make sure your provider includes 24/7 help desk services to ensure high productivity!
Is DaaS Right For Your Organisation?
Many firms may use public cloud services such as Microsoft 365, Salesforce, BambooHR, etc. This is because they feel their staff are well trained on the company's IT and security policies and understand best practices.
However, remember that DaaS is not for everyone!
This is true for those who must abide by strict industry regulations, including financial firms, legal firms, government contractors, and others. For these types of firms, DaaS can be an absolute necessity. Our best recommendation is to remember to discuss with a reputable IT consultant before you make the big decision to switch to DaaS!
Total Views: 25 ,